BY
Fadley Faisal
A 41-YEAR-OLD local man was charged in the Intermediate Court yesterday with six counts under Section 28 (1) of the Children and Young Persons Act, Chapter 219 for allegedly assaulting three of his children in separate incidents this year.
---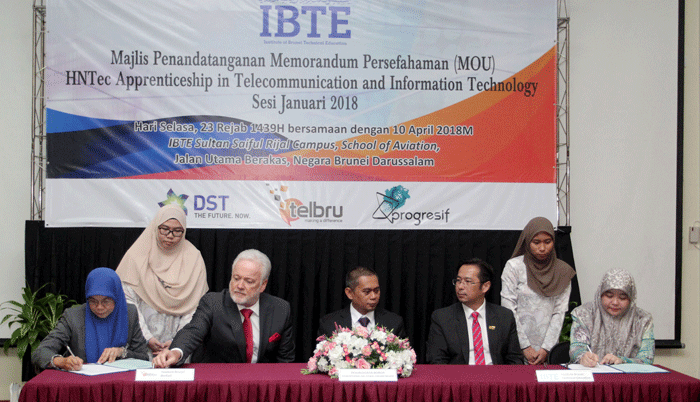 BANDAR SERI BEGAWAN, BERAKAS - The collaboration between Institute Brunei Technical Education, IBTE and private companies provides an avenue for technical and vocational students to acquire relevant industry experience and training making them more employable upon completion of their studies.
To further strengthen this collaboration, IBTE this morning signed a Memorandum of Understanding, MOU with three telecommunications companies.
---
The search in progress. – AZARAIMY HH



BY Azaraimy HH
THE search for an elderly man from Kampong Sengkarai continues.
Pengiran Haji Damit bin Pengiran Haji Ahmad, 72, was last seen at his orchard farm in the Kampong Menengah-Bukit Sulang area, on April 7. He was reported missing later that night, when he failed to return home.
---
An official ensuring all computers are ready for PISA assessment. – AZLAN OTHMAN
BY
Azlan Othman
A MAIN survey for the Programme for International Student Assessment (PISA) 2018 is currently being held in local secondary schools on a scheduled basis, until May 30.

The study commenced yesterday, involving 7,041 students from 55 secondary schools and colleges across Brunei Darussalam.
---
Pehin Orang Kaya Seri Kerna Dato Seri Setia (Dr) Haji Awang Abu Bakar bin Haji Apong, the Minister of Home Affairs, yesterday conducted working visits to various parts of the Belait District. The first stop was the newly constructed X25 Recreational Park in Kuala Belait, followed by visits to the Activity Centre of the Village Consultative Council (MPK) in Mumong, Seria Fire Station, the Sungai Tujoh Control Post and the Lumut Community Hall 1



BY

Daniel Lim






THE Minister of Home Affairs, Pehin Orang Kaya Seri Kerna Dato Seri Setia (Dr) Haji Awang Abu Bakar bin Haji Apong, visited various locations in the Belait District yesterday.

One of the first stops of the minister's visit was the newly constructed X25 Recreational Park at Jalan Maulana, Kuala Belait.
---
---