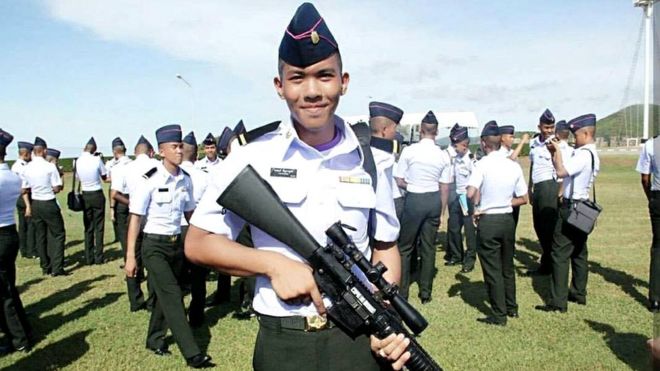 Phakhapong Tanyakan was a first year military student


The case of a Thai army cadet who died under mysterious circumstances and had his organs removed has left his family angry and with many questions.
Phakhapong Tanyakan died on 17 October - and his family was told the cause of death was a sudden cardiac arrest.
Yet his family became suspicious - because he had previously described brutal treatment at the school.
They secretly had a new autopsy done - revealing bruises, broken ribs and many of his vital organs missing.
What happened?
Phakhapong Tanyakan was a first year student at the Armed Forces Academies Preparatory School.
When he suddenly died in October the army gave cardiac arrest as the cause of death.
But the family did not trust the official version - so when the body was transferred to them for the funeral they brought it for a second autopsy at a private clinic.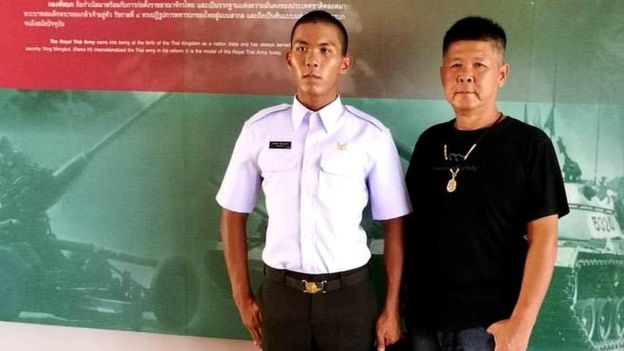 Phakhapong's father right says he wants answers from the military
What the doctors found were severe bruise marks, several broken ribs and broken collarbones - and the brain, heart, stomach and bladder had been removed from the body.
"It's beyond words," the young cadet's father told BBC Thai. "This incident for us is similar to a boat capsizing. He drowned to death and left us adrift."
Excessive punishment?
What added to the family's suspicions was that the cadet had previously described experiencing excessive physical punishment.
The Bangkok Post cites the cadet's mother saying that he once had to stand on his head as a punishment and had gone into shock and needed CPR to be revived.
He had also told his parents that he had been brutally disciplined by senior students in the academy.
Rights groups have said that corporal punishment and torture are a common problem in the Thai military.
What did the army say?
The military responded with a press conference, insisting the death was from heart failure and that the organs had been removed for the first autopsy by the military.
An army hospital doctor cited by the Nation newspaper said the organs had been taken out for detailed examination because the body had no signs of injuries.
He added they could be returned to the family now the examination had wrapped up.
Addressing the allegations of brutal punishment, the military said disciplinary action was under way but that the instances were not linked to Phakhapong's death.
Mr Tanyakan's family says it's not yet making allegations or accusations but wants the military to investigate and explain the circumstances of the death.
-- Courtesy of BBC News