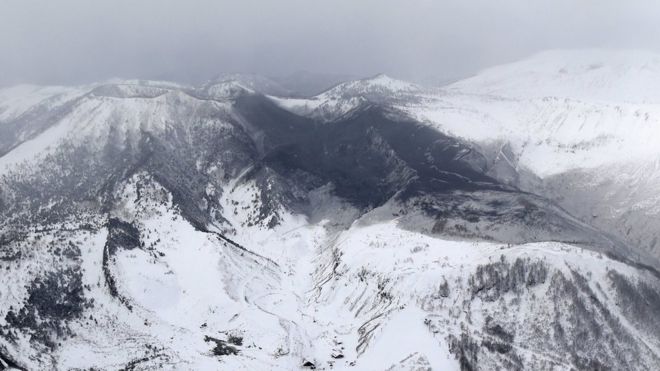 Mount Kusatsu-Shirane 'appears to have erupted' on Tuesday


One person is missing after an avalanche at a Japanese ski resort which may have been triggered by a nearby volcanic eruption.
At least 10 people were also injured in the incident near Kusatsu in central Gunma prefecture, say officials.
Several people have been rescued from the mountain, Japanese media report.
Authorities say the Kusatsu-Shirane volcano erupted at the same time, but it is not yet clear whether the avalanche was triggered by that.
"Based on various measurements, we can say that the mountain appears to have erupted, but we are still trying to confirm facts on the ground," Japans Meteorological Agency said, according to Reuters.
The agency also warned people not climb the mountain.
Rocks raining down
Japanese media have broadcast footage showing rocks flying through the air.
According to state broadcaster NHK, some of the volcanic debris fell more than 1km (0.6 miles) from the mountain.
The Fire and Disaster Management Agency warned that rocks could be raining down as far as 2km from the peak, Reuters said.
Six members of the military, who were conducting an exercise in the area, were among those rescued from the avalanche.
Four people who were riding a gondola at the resort at the time were among the injured.
Japan is one of the world's most seismically active nations - in September 2014, 63 people were killed in a sudden eruption of Mount Ontake.
-- Courtesy of BBC News