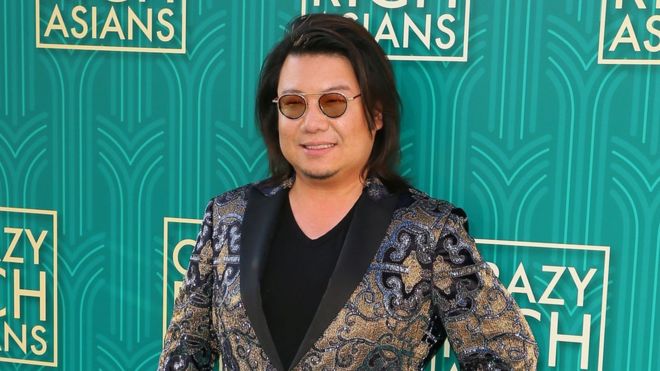 Kevin Kwan left Singapore when he was 11

The author whose book Crazy Rich Asians was adapted into a box office hit is wanted by Singapore for failing to report for military service, the Ministry of Defence has said.
Kevin Kwan, 44, did not register for national service (NS) in 1990 despite being sent notices, the ministry said.
He later applied twice to renounce his citizenship, but was rejected as he had not first served NS.
He could face up to three years in jail if he returns to Singapore.
All Singaporean men over 18 have to undertake two years of national service (NS) with either the armed forces, the police or the civil defence force.
"Mr Kevin Kwan failed to register for NS in 1990 despite letters sent to his overseas address," said the Ministry of Defence (Mindef) in a statement to the BBC. He also didn't have the right permit for a long term stay overseas.
"Mr Kwan is therefore wanted for defaulting on his NS obligations," Mindef said.
Mr Kwan has not responded to the ministry's statement.
The news emerged after the ministry was approached by Singapore newspaper the Straits Times.
According to the Times, Mr Kwan grew up in Singapore but left the country at the age of 11 and now resides in the US.
The BBC was unable to confirm if Mr Kwan now has American citizenship.
The ministry suggested that could be assumed, or he would not have needed to renounce his Singapore citizenship.
Singapore does not recognise dual citizenship beyond the age of 21.
The government rarely chases up NS-avoiders who have moved overseas, but they can face problems under the Enlistment Act if they try to return to Singapore.
Penalties include fines of up to S$10,000 ($7,314; £5,672) and imprisonment of up to three years.
Mr Kwan's bestselling Crazy Rich Asians tells the story of an Asian-American woman who gets a culture shock meeting her boyfriend's ultra-wealthy family in Singapore.
The film adaptation, the first Hollywood movie in decades to feature an all-Asian cast, topped the US box office on its opening weekend.
It has been a source of pride for many people in Singapore, which rarely features on the international entertainment stage.
-- Courtesy of BBC News