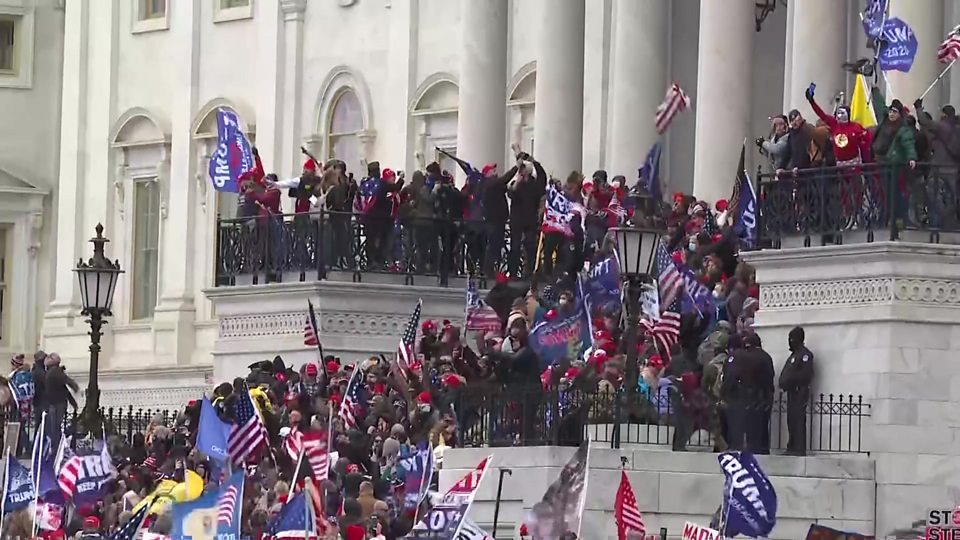 Police place US Capitol Building on lockdown after Trump supporters breached security lines


Violent supporters of President Donald Trump have breached the Capitol in Washington, as lawmakers met to confirm President-elect Joe Biden's poll win.
In dramatic scenes, demonstrators swarmed the building as Congress members were escorted out by police.
Mr Biden said it was an "insurrection", and Mr Trump released a video message asking supporters to go home.
The joint session of Congress certifying Mr Biden's win has been suspended and forced into recess.
There are reports of guns drawn in the building and at least one person shot. A woman was reported to be in a critical condition and several police were injured.
There has been an armed confrontation at the doors of the House of Representatives. Tear gas has also been used.
Rioters were seen marching through the building chanting "We want Trump" and one was photographed in the Senate president's chair.
Washington police said it was clear the crowd was intent on using chemical irritants to force entry to the building.
Tear gas is used to disperse protesters at the Capitol building
After an occupation lasting several hours, the sergeant-at-arms - the executive office of the Senate - announced that the building had been secured by law enforcement.
But there is little sign that the protesters are obeying Mr Trump's call to go home, despite a citywide curfew declared by the city mayor from 18:00 to 06:00 (23:00 to 11:00 GMT).
Mr Trump recorded a video message on Twitter calling on supporters to leave the Capitol, but continuing to make unsubstantiated claims that Democrats had stolen the election.
"I know your pain, I know you're hurt," he said. "You have to go home now, we have to have peace... we don't want anybody hurt."
Mr Biden said the demonstration "borders on sedition and it must end now".
"At this hour our democracy is under unprecedented assault," he said.
Political figures across the world expressed shock. UK Prime Minister Boris Johnson condemned "disgraceful scenes" and called for a "peaceful and orderly transfer of power".
Mr Trump's spokeswoman, Kayleigh McEnany, tweeted that the National Guard was being deployed.
Troops and police have also been mobilised in neighbouring states, and the FBI has been deployed to help Capitol police.
There are also reports of protests at state legislatures around the country.
What were the protesters targeting?
A joint session of Congress was being held to certify Mr Biden's election victory on 3 November.
The proceedings are usually brief and ceremonial but Republican lawmakers have been objecting to some results.
For days Mr Trump had also been putting pressure on Mr Pence, who is presiding over the session, to block certification of the result.
But in a letter to Congress on Wednesday, Mr Pence said that he had no "unilateral authority to decide which electoral votes should be counted".
The protesters arrived at the Capitol from a "Save America Rally", where Mr Trump had urged them to support those legislators opposing Mr Biden's confirmation.
Mr Trump has refused to concede the 3 November election, repeatedly alleging fraud without providing any evidence.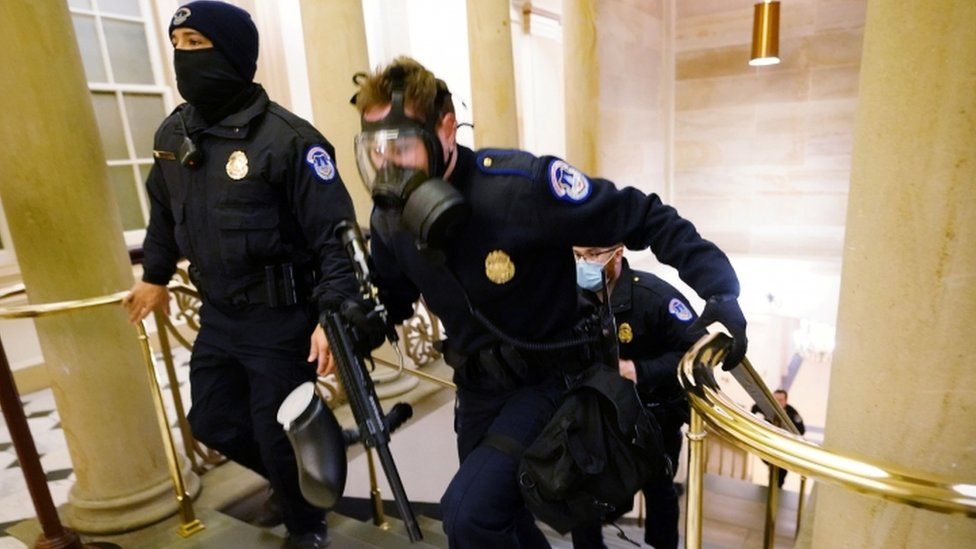 Police have been taking up position inside the Capitol building
On Wednesday, he said again: "We will never give up. We will never concede."
He has also tried to throw doubt on the integrity of Tuesday's Senate run-off votes in the southern, traditionally Republican, state of Georgia. Projections by US TV networks suggest the Democrats have won one of the seats and are neck-and-neck for the second seat.
If the Democrats win both they will gain effective control of the Senate - something that will help Mr Biden push forward his agenda after he is inaugurated as president on 20 January.
-- Courtesy of BBC News