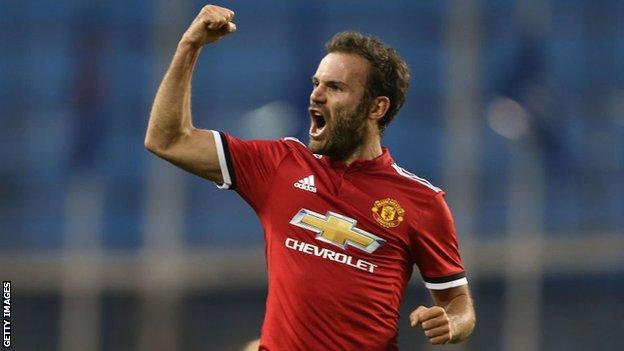 Juan Mata has won 41 caps for Spain


Juan Mata is asking Premier League players to join him in a pledge to donate 1% of their salary to charity.
Six players have so far joined the 29-year-old midfielder's campaign, but no others from England's top-flight and no English players are among them.
However, Mata hopes some of his Manchester United team-mates will soon also be keen to get on board.
"I have big news and good news coming up probably next week," Mata told BBC Sport. "I hope everyone will be happy."
The Spaniard, who joined United from Chelsea for £37.1m in 2014, reportedly earns £7m a year.
"I am definitely convinced some of my team-mates can join," he said.
"I just need to have further conversations and have more detailed conversations with them in order to try and explain to them what we are doing."
Germany and Bayern Munich defender Mats Hummels was first to match Mata's pledge to donate 1% of his salary to charity.
US women's World Cup winners Megan Rapinoe and Alex Morgan, Juventus' Giorgio Chiellini, former Arsenal winger Serge Gnabry and Stuttgart's Dennis Aogo have since followed suit.
"It's just a little matter of time and patience," added Mata. "I am convinced we are going to get so many different players from around the world.
"England, we hopefully have in the next week."
-- Courtesy of BBC Sport