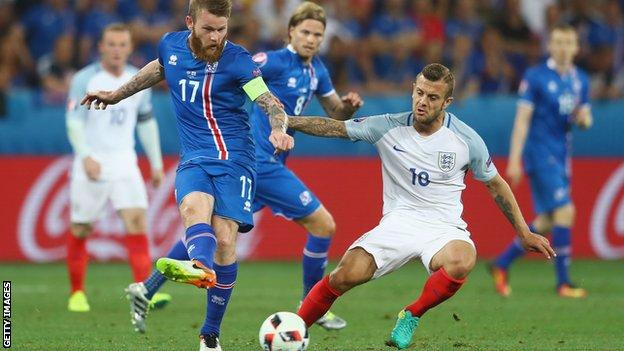 Wilshere has 34 caps for England, the last coming against Iceland at Euro 2016


England midfielder Jack Wilshere was told by Arsenal manager Arsene Wenger he could leave the club last summer.
The 26-year-old returned to the Gunners after spending last season on-loan at Bournemouth, where he played 30 games.
But Wilshere, whose contract expires at the end of the season, has forced himself back into the Arsenal first-team and made 31 appearances this term.
"He gave me the opportunity [to leave] with three or four weeks left in the transfer window," Wilshere said.
He added: "I did not find anything that I wanted and at the same time I was not really fit, so I decided that I wanted to stay and build up my fitness.
"It was an honest conversation. We have known each other long enough where we can have that relationship where we are honest with each other.
"It was boiling up for a while because everybody knew I had a year left on my deal and I had been out on loan, got injured, and wasn't really in his plans.
"He said, 'I am going to be honest with you and at the moment we are not going to be offering you a contract, so if you can get a contract somewhere else, you can go'.
"Obviously I was not happy with that, but at the same time I was happy he was being honest."
Wilshere's injury-free season has seen him return to the England side for the first time since the Euro 2016 exit against Iceland, with the national team up against the Netherlands and Italy in friendly matches before this summer's World Cup.
He added: "The World Cup is a massive thing for us and we want to do well.
"It is a different feel now. There are more young players, there is more of a group I think and there is more of a plan towards the future."
-- Courtesy of BBC Sport