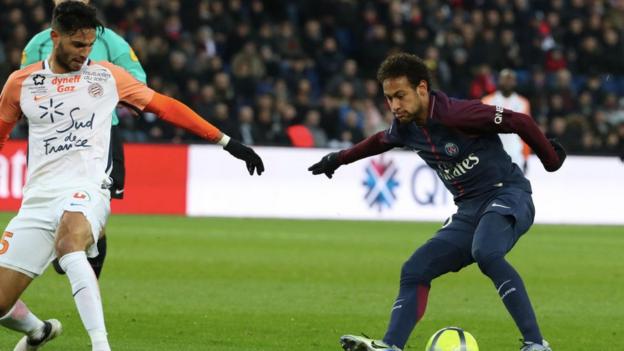 Paris St-Germain's Ligue 1 game against Montpellier in the French capital on Saturday has been postponed at the request of the police.
Violent protests have been held in major French cities over the past three weekends against a rise in fuel tax.
The "gilets jaunes" (yellow vests) protests have now grown to reflect more widespread anger at the government and more are planned for this weekend.
League leaders PSG said a new date for the match "will be set in due course".
PSG's next two games are away from Paris. They play Strasbourg in the French top flight on Wednesday and then travel to Red Star Belgrade in the Champions League on 11 December.
"We accept this postponement," said PSG boss Thomas Tuchel.
"We'll have to manage this situation to stay in shape before Belgrade. Security is absolutely important."
Lyon's match at Toulouse on Saturday has also been postponed.
"It's a last-minute decision," said Lyon owner Jean-Michel Aulas. "It marks the current turmoil in a society that prioritises things that we would not like to see. I do not know if there were any risks.
"Maybe the whole day will be cancelled because it poses a problem of fairness. The calendar is very busy for the European teams. One must be factual and bow to the force of events. We will adapt."
-- Courtesy of BBC Sport