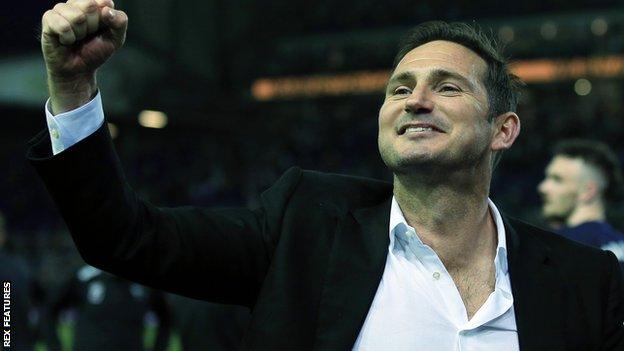 Frank Lampard is one game away from taking Derby to the top flight for the first time since 2008


Derby County manager Frank Lampard says he will discuss his future with owner Mel Morris after the Championship play-off final amid speculation he will replace Maurizio Sarri as Chelsea boss.
Lampard, 40, spent 13 years at Stamford Bridge and has taken Derby to Monday's showpiece Wembley final against Aston Villa in his first season as a boss.
Sarri also took over last summer and also has two years left on his deal.
Lampard said he "understood the link" but "wasn't thinking about it".
Chelsea face Arsenal in the Europa League final in Azerbaijan on Wednesday, with continued talk that Sarri will be sacked.
Lampard, who played 649 games for the Blues and is their record goalscorer, added: "I've got two years left on my contract here and I see no further forward than Monday.
"I will sit down with Mel after the game, which was planned before all this talk anyway, to see firstly what the result was on Monday because that's going to define how we chat.
"It's been a bit of an obvious link all season. It's maybe because of where we're at - in the final - and we're being talked about and I get linked because of my 13 years at the club.
"But in terms of how I'm seeing it, I don't want to think about it, I don't want to talk about it. I want to talk about Monday."
Morris told BBC Derby Sport it is inevitable Lampard will be talked about as the next Chelsea manager.
"Frank's always going to be linked with Chelsea," added Morris. "Is anyone surprised that lots of people would be interested in him given what he has achieved this season?
"His style of football has been fantastic.
"Right now, Chelsea have got a massive game coming up next week, we've got a massive game coming up and I can guarantee that no one wants any focus on anything other than those two game.
"For Frank he should view it as a compliment that he is being connected with that opportunity, but he always will be."
-- Courtesy of BBC Sport