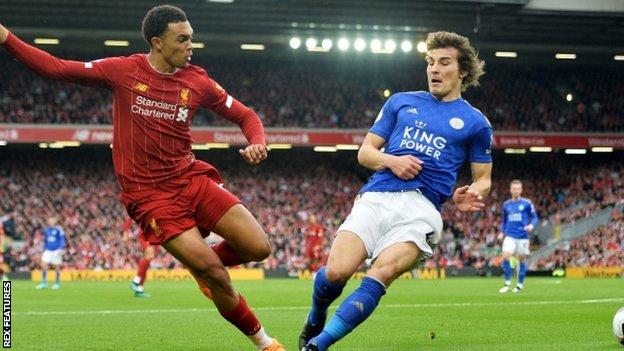 Liverpool beat Leicester at Anfield earlier this month thanks to a stoppage-time penalty
Liverpool's Premier League trip to Leicester City on Boxing Day has been moved to an 20:00 GMT kick-off so it can be televised by Amazon.
The change is part of Amazon's plans to broadcast fixtures for the first time, with the American media company showing all 10 games on 26 and 27 December.
Liverpool fans group Spirit of Shankly called the scheduling "disdainful" because of transport problems.
But Jurgen Klopp's team have more rest between games than Manchester City.
After facing Leicester, the league leaders host Wolves on 29 December at 16:30 GMT - a gap of 68 hours and 30 minutes.
Champions City travel to play Wolves at 19:45 GMT on Friday 27 December before hosting Sheffield United on Sunday, 29 December at 18:00 GMT - a gap of 46 hours and 15 minutes.
City chief operating officer Omar Berrada said: "We're disappointed that the schedule is so tight for the players over Christmas. It's not ideal to be made to play twice in less than 48 hours because it doesn't give the players time to properly recover.
"We obviously understand that the paying rights-holding broadcasters are an important consideration when it comes to scheduling, but we also need to make sure that we protect the players' wellbeing, the sporting integrity of the league, and the quality of the product."
Additional Boxing Day fixtures to have their kick-off times moved for Amazon coverage include Tottenham's home match against Brighton, which will start at 12:30 GMT, and Newcastle's trip to Manchester United for a 17:30 GMT kick-off.
Other notable televised fixtures over Christmas include Burnley hosting Manchester United on Saturday, 28 December at 19:45 GMT - a game to be broadcast by BT Sport.
BT will also show Arsenal's game against Ole Gunnar's Solskjaer's team at the Emirates on New Years' Day at 20:00 GMT, and Liverpool's home game against Sheffield United at the same time on Thursday, 2 January.
'Fans' welfare ignored'
The announcement of festive TV games has already been delayed by six days, leading to criticism from fans groups.
And the prospect of Liverpool fans travelling to Leicester and back is not helped by the fact that trains do not run between the cities on Boxing Day and bus services are limited.
Spirit of Shankly called for all Boxing Day fixtures to kick off at 15:00.
The group said: "A consequence of such a disdainful, zero-consideration change means LFC's following fixture, at home to Wolves, is also to be moved to Sunday 29 December, again with inconvenience and negative implications for fans and workers.
"The Premier League and TV companies repeatedly ignore the welfare of supporters. But they do have a chance to redeem themselves.
"Spirit of Shankly call on the authorities to do the right thing and revert all Boxing Day fixtures to a sensible kick-off time of 3pm."
The Football Supporters' Association said Amazon's entry into the market has only made things "worse" for match-going fans.
A spokesperson said: "Time and again TV companies have shown they do not give thought to the match-going fan as they kick games around the calendar to suit their needs. Amazon's entry into the market has only made this worse.
"Spirit of Shankly have called this a "zero consideration" move and that sums it up for fans of Liverpool and supporters of other clubs who have seen games moved.
"The leagues, clubs and broadcasters have to do better. This issue isn't going away and we'll continue to bang the drum until fans properly are involved in discussions."
-- Courtesy of BBC Sport