Aston Villa keeper Orjan Nyland appeared to be holding the ball behind the goalline



The Premier League made its return after a 100-day absence as Aston Villa and Sheffield United played out a goalless draw in a match memorable for powerful statements before kick-off - and a major technology controversy.
As the action resumed behind closed doors at a largely deserted Villa Park, the players of both sides and officials took a knee for 10 seconds immediately before kick-off in support of the Black Lives Matter movement.
This was preceded by a minute's silence in memory of those who have died as a result of the coronavirus pandemic.
When the game got under way in this new environment, Sheffield United were the victims of a serious first-half injustice when Villa keeper Orjan Nyland fell behind his goalline clutching Oliver Norwood's free-kick in the 41st minute, only for referee Michael Oliver's watch to fail to signal a goal.
It was the pivotal moment of an affair high on endeavour but low on quality that at least represented the success of 'Project Restart' after the season was halted because of the global coronavirus crisis, bringing a result that was arguably more satisfactory for the visitors.
Villa - who were thwarted by some fine saves from United keeper Dean Henderson - will feel an opportunity has been missed, while a point for the Blades leaves them four points from Chelsea in fourth place.
There was, at least, a sense of relief that domestic football was finally up and running once more.
Powerful moments amid 'the new normal'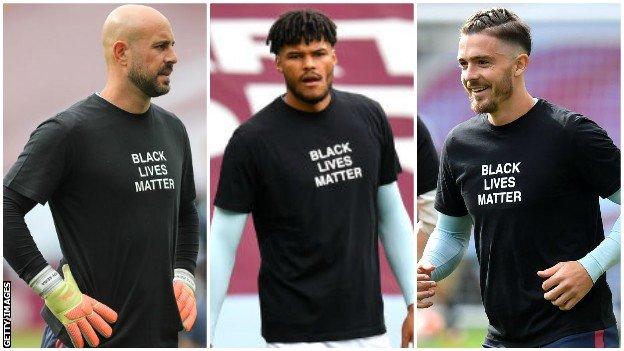 Pepe Reina (left), Tyrone Mings (centre) and Jack Grealish (right) warming up for Aston Villa
The silence enforced on this occasion by circumstances, with barely 300 people inside this vast Villa Park stadium, only added to the powerful moments that took place before kick-off.
After a minute's silence in memory of those who have died as a result of the coronavirus pandemic, players and officials took a knee in support of the Black Lives Matter movement at the sound of Oliver's whistle.
It was a truly atmospheric moment amid a game lacking the theatre and soundtrack traditionally provided by fans, while players also had Black Lives Matter printed across the back of their shirts where their names would usually be.
Aston Villa did their best to build the tension with a bombastic pre-match play-list and theatrical announcements of the home team line-up, but there is no doubt the so-called "new normal" will take some getting used to and may never be to the taste of many traditionalists.
This, however, is the current reality in the middle of a global crisis and there was no lack of effort, endeavour - or noise - from two highly-committed sets of players.
Chris Wilder was the more vocal and visible manager in his technical area and, for all the restrictions, the physical challenges were as committed as ever.
This alien environment will need acclimatisation from the players themselves, as well as all those in and around the other parts of the game. Muscle memory kicks in but there is no question the absence of a crowd and the flow of adrenaline that provides may take some getting used to, so there may well be something of a transitional period.
Welcome back technology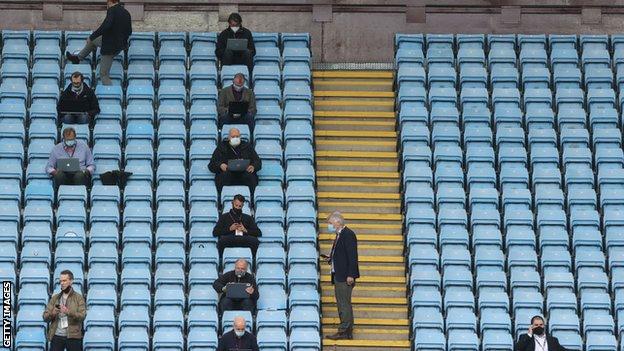 Members of the press remain socially distanced while wearing face masks to report from Villa Park
Those who have missed Premier League football so much during its 100-day hiatus may even have been tempted to greet the return of the video assistant referee (VAR) and goalline technology as old friends rather than the unwanted distraction that made them a target for such criticism before the campaign was halted.
Do not tell that to Sheffield United.
The Blades were denied a clear goal when Villa keeper Nyland carried Norwood's free-kick behind the line.
United's players were incredulous when the goal was not given, Oliver pointing to his watch to insist he had received no signal that the ball had crossed the line. It later became clear that he should have been alerted but was not and VAR was unable to intervene.
Sadly, a failure of technology meant a serious injustice was done on the Premier League's big comeback night.
Henderson shows his class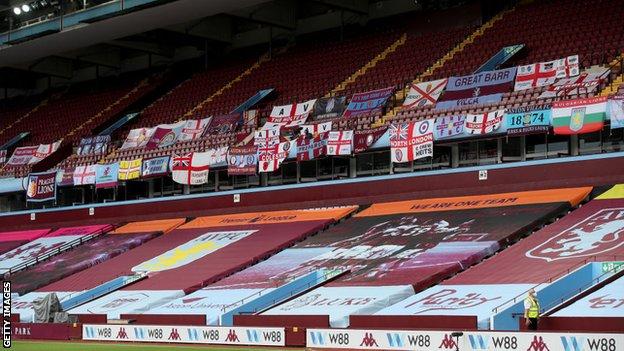 Villa Park was decorated with banners in the absence of supporters
Henderson's reputation has soared during his loan spell at Sheffield United from Manchester United - and it is easy to see why Wilder was delighted the 23-year-old is staying with the Blades until the end of the season.
He has calm command and produced the goods when called upon with some fine saves, including from Conor Hourihane, Keinan Davis and John McGinn.
There was plenty of endeavour but not huge amounts of quality, with Villa probably regretting their failure to make the most of some early chances, especially when Davis headed over from under the bar after a corner.
United, as ever, were resilient and showed the grit they have demonstrated throughout this excellent season.
And, when this first Premier League game back is analysed, they will have every right to curse the failure of technology we have been led to believe we can rely on.
Football is back - with all its qualities and faults.
-- Courtesy of BBC Sport