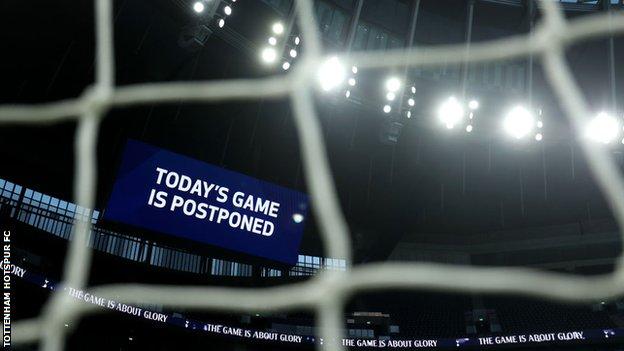 Tottenham v Fulham was originally due to take place on 30 December


Tottenham will play Fulham on Wednesday in a fixture reshuffle after Spurs' Premier League match at Aston Villa was postponed because of coronavirus cases in the Villa camp.
Fulham's scheduled home match against Chelsea on Friday will now take place on Saturday.
Villa, who were due to host Everton on Saturday, face the Toffees on Sunday under the revised fixture list.
Fulham's game at Tottenham was originally scheduled for 30 December.
But it was postponed at short notice because of a coronavirus outbreak at Fulham.
A Premier League statement said Villa had requested to rearrange the Spurs game.
"Due to the number of players and staff who have either tested positive for Covid-19 or have been placed in isolation by the club, the Premier League had no other option than to reschedule the game," it said.
Southampton v Leeds could be postponed
Southampton's Premier League match against Leeds on 20 January may be postponed to allow Saints' FA Cup tie with Shrewsbury to go ahead.
The third-round encounter was called off on Saturday as Shrewsbury were unable to field a team because of the number of coronavirus cases in their squad.
Unlike Derby and Aston Villa, who encountered similar issues, Shrewsbury were not in a position to select a squad of 14 players from their youth teams.
The FA is still to announce what will happen with the game.
However, rather than kick Shrewsbury out of the tournament, one option being discussed is for Southampton's match at Elland Road, due to take place immediately before the fourth round, to be moved to make room for the cup game to be played.
Revised Premier League fixtures
All times GMT
Wednesday - Tottenham v Fulham 20:15 (Originally 30 December)
Saturday - Fulham v Chelsea 17:30 (Originally Friday)
Sunday - Aston Villa v Everton 12:00 (Originally Saturday)
-- Courtesy of BBC Sport