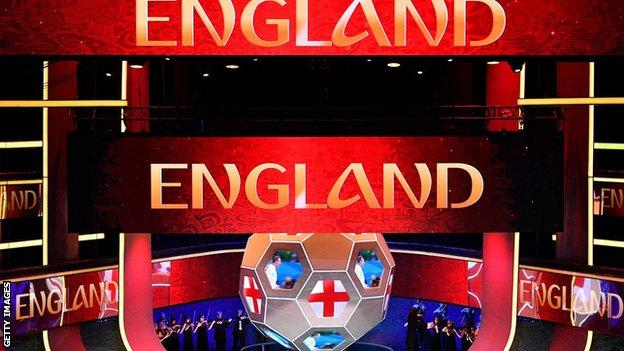 England begin their World Cup campaign against Tunisia in Volgograd on 18 June


UK government ministers and members of the Royal Family will not attend the World Cup in Russia after a Russian-made nerve agent was used on an ex-spy.
Sergei Skripal and his daughter, Yulia, are in a critical condition after the incident in Salisbury on 4 March.
Prime Minister Theresa May said on Wednesday that the relationship between the two countries "cannot be the same".
Buckingham Palace said "no plans had been made" for any of the Royal Family to travel for the World Cup in Russia.
Prince William is the president of the Football Association (FA).
When asked whether senior FA officials should also not go to the World Cup - which runs from 14 June to 15 July - Mrs May said: "I'm sure they will want to be considering their position.
"Attendance at sporting events is a matter for the sporting authorities - it's a matter for them."
In a statement, the FA said it will "continue to work closely with the UK government and relevant authorities".
"Our priority for all England matches is to ensure the safety and security of the fans, players and staff. As is standard practice, we will take all travel guidance from the Foreign and Commonwealth Office," it added.
On Wednesday, the Foreign Office updated its advice for those visiting Russia. It said UK nationals in the country should be "aware of the possibility of anti-British sentiment or harassment" due to "heightened political tensions between the UK and Russia".
It said the British Embassy in Moscow was "not aware of any increased difficulties for British people travelling in Russia at this time" but recommended UK nationals "remain vigilant, avoid any protests or demonstrations and avoid commenting publically on political developments".
Mrs May, speaking at Prime Minister's Questions, said the government would "look at security and protection of any UK football fans travelling to the World Cup".
She also announced the UK will expel 23 Russian diplomats and revoke an invitation to the Russian foreign minister to visit the country.
Russia denies being involved in the attempted murder of Sergei Skripal.
-- Courtesy of BBC Sport