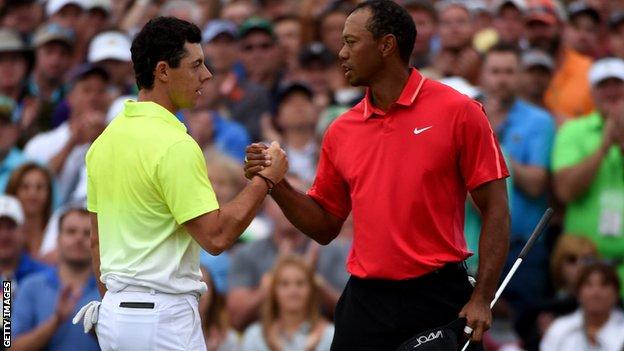 Rory McIlroy (left) and Tiger Woods shake hands on the 18th green during the final round of the 2015 Masters


Tiger Woods is a "legend of golf" and can "walk away from the game with his head held extremely high" when he decides to retire, says Rory McIlroy.
Fourteen-time major winner Woods, 41, has had multiple back operations in recent years, and on Wednesday said he may never return to competitive golf.
"He probably played the greatest golf that anyone in my lifetime has seen," said world number six McIlroy, 28.
"If this is it, he doesn't have anything to prove to anyone."
On the eve of the Presidents Cup, American Woods said he had even doubted whether he could work as a captain's assistant at the event because riding in a golf buggy "hurt too much".
Asked whether it was possible he may never compete again, he said: "Yeah, definitely. I don't know what my future holds."
Speaking after an opening 67 in the British Masters, Northern Ireland's four-time major winner McIlroy added: "If he doesn't play again, he's been the greatest player that I've ever seen.
"I don't think there's a single figure in golf who did more in terms of bringing different groups of people into the game, different ethnicities, different age groups.
"He made golf cool in the 90s, when it really needed an injection of something.
"So he's a legend of the game and if this is it, then everyone should just applaud what a great career he's had."
-- Courtesy of BBC Sport