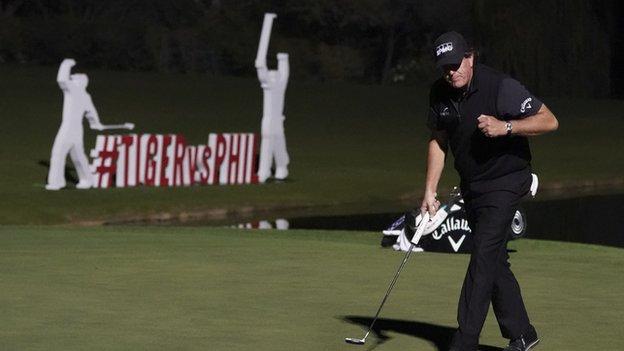 Phil Mickelson celebrates his winning putt



Phil Mickelson claimed the $9m (£7m) winner-takes-all prize in a dramatic duel with Tiger Woods which finished under floodlights in Las Vegas.
The matchplay between the two Americans went to a 22nd hole before Mickelson sunk a four-foot putt for victory.
Woods chipped in on the 17th to stop Mickelson putting for the match, then missed a chance himself from eight feet on the first extra hole.
That led to a sudden-death play-off on a 93-yard hole which Mickelson edged.
It was a suitably extraordinary finish to an event which, although lacking quality as a sporting spectacle, had promised to show golf as it had never been seen before.
"I'm just trying to calm down, my heart can't take any more, it was such an incredible opportunity," Mickelson, 48, said.
"He's the greatest of all time but to have a little bit of smack talk for the coming years means a lot to me because I don't have a lot on him!"
'There was some crappy golf'
Opinion had been divided over 'The Match' at Shadow Creek on Friday, a showdown which was streamed on pay-per-view across the United States on Thanksgiving weekend.
Some felt it was a pointless, indulgent exercise which only served to make two of the richest players in the history of the game even richer.
Others believed it was a fun, entertaining way of showcasing the sport to a different audience.
Either way, it had people talking.
Soon after the players teed off at 20:00 GMT, the event's promotional hashtag - #TheMatch - was trending both worldwide and in the United Kingdom on social networking site Twitter as players, journalists and fans dissected the spectacle whatever their standpoint.
World number four Justin Thomas, who is an American Ryder Cup team-mate of Woods and Mickelson, had said there was a "zero percent chance" he would order the match - yet ended up being drawn in.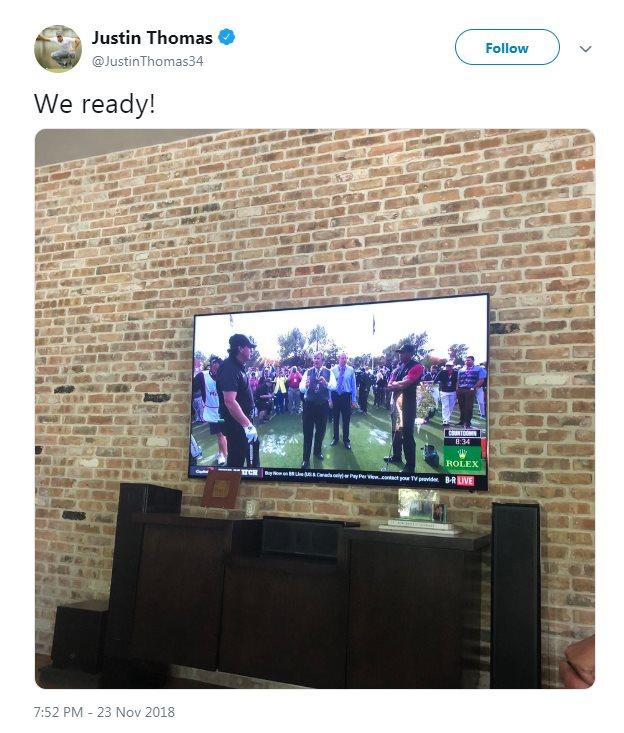 Northern Ireland's Graeme McDowell was also watching the match unfold, although in one Tweet he said he needed "some wine to get through it".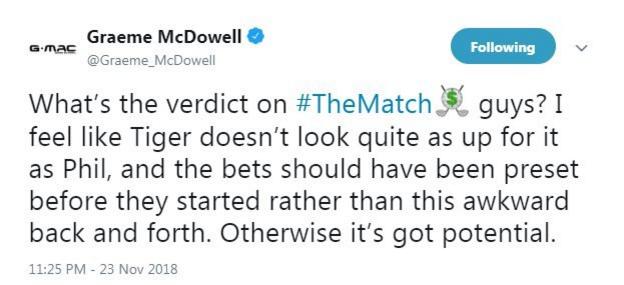 Former Open champion Darren Clarke, watching in his role as an analyst on the American television coverage, conceded after 10 holes: "We need a spark, we need something."
American basketball legend Charles Barkley, who apparently speaks from experience of his own less-than-stellar skills on the links, was less generous on the same show.
"This is some crappy golf," said the former NBA star.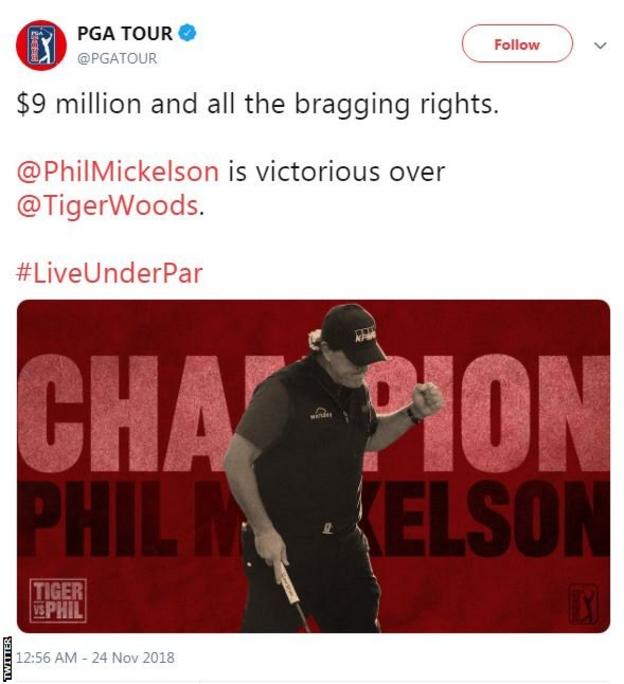 Money and bragging rights - the PGA Tour tweeted this after Mickelson's victory
-- Courtesy of BBC Sport