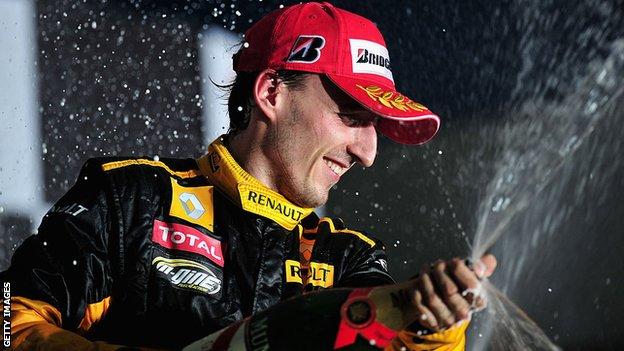 Robert Kubica claimed his first and only win in Formula 1 in the 2008 Canadian Grand Prix


Robert Kubica will test for Williams in Abu Dhabi after this weekend's season-closing grand prix.
The test is effectively the final step in an evaluation process to see if the Pole can return to Formula 1 in 2018 after seven years away.
Williams will also assess Renault reserve driver Sergey Sirotkin.
The Russian has emerged as a candidate along with Daniil Kvyat, Pascal Wehrlein and Paul Di Resta, although Kubica remains their first choice.
The team are keen to sign a proven talent alongside Stroll, who has generally struggled to match veteran Felipe Massa in his debut season this year, other than a couple of impressive drives in the Azerbaijan and Italian Grands Prix.
Massa is retiring from the sport after this weekend's race.
Kubica has not raced in F1 since 2010 but has done a series of tests this year as he seeks to prove he can return despite the life-changing injuries he suffered in a horrific rally crash in February 2011.
The 32-year-old Pole has partial movement in his right arm, which also has atrophied muscles, as a result of the accident, in which a steel roadside barrier penetrated his car, partially severed his arm and left him with multiple fractures on the right-hand side of his body.
Kubica did three tests for Renault this summer before the team decided not to pursue signing him, saying they had "unanswered questions" about whether he could return.
But Williams were attracted by the idea of signing a man who was renowned for pace, consistency and technical feedback before his accident. He won the 2008 Canadian Grand Prix for BMW Sauber and was regarded as one of the leading talents in the sport at the time.
Kubica impressed Williams in two tests alongside reserve driver Paul Di Resta at Silverstone and the Hungaroring last month. If he proves in Abu Dhabi on 28 November that he can handle the more physically demanding 2017 cars, he will be signed as a race driver for 2018.
Sirotkin, 22, has done some work in the Williams simulator and is also now a potential contender for the seat, alongside Sauber driver Wehrlein and Russian Kvyat, who was dropped by Red Bull in October.
Kubica is to drive on the morning of the 28 November at Yas Marina circuit, with Stroll driving in the afternoon. Sirotkin will drive the following morning, before he too hands over to Stroll.
A Williams statement said: "The test is aimed at evaluating 2018 candidate tyres on behalf of the F1 tyre supplier Pirelli.
"Williams are excited to have this opportunity to assess the new tyres across such an interesting array of drivers: Lance, as confirmed race driver for 2018, Robert with his huge experience, and Sergey as a very promising young talent in F1."
-- Courtesy of BBC Sport