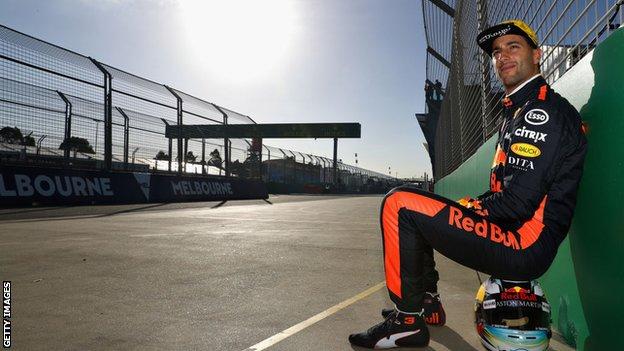 Daniel Ricciardo has twice finished third in the drivers' championship (2014 and 2016)


Daniel Ricciardo wants Red Bull to provide a title-winning statement of intent at this weekend's season-opening Australian Grand Prix.
Last year's championship was largely contested between Mercedes and Ferrari but hopes are high for a three-way title battle this season.
Red Bull finished 2017 with two wins from six races and Ricciardo feels the team has only improved since then.
"There's a lot more confidence within the team," the Australian said.
"Every year we have worked hard to build a fast car, but come testing we have not really had a lot to show for it, but this winter we had a bit more.
"For us to have a strong weekend, however, would set a statement for the year and show that we would be fighting for the championship. It would be awesome to get off on the right foot."
Ricciardo enters a potentially decisive season at Red Bull with his contract due to expire at the end of the year.
The 28-year-old has been linked with Mercedes and Ferrari, with Valtteri Bottas and Kimi Raikkonen also in the final year of their deals.
However, Ricciardo's focus is only on producing the performances on the track, starting on Sunday.
"At the end of the day the results are going to do the talking," added Ricciardo, who is aiming to become the first Australian to win his home grand prix.
"For any of us out of contract I believe the driver who is going to be in the hot-seat is not the person who does the best negotiating, but the one who does the best on track.
"That's really my focus at the moment - to come out on the right foot here in Melbourne - and to try and fight for the title this year."
-- Courtesy of BBC Sport