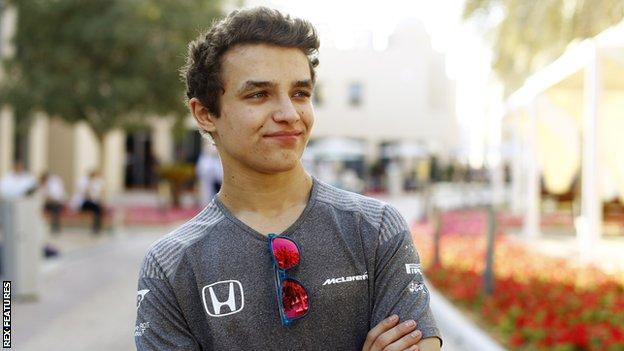 Norris has made his name by winning titles in several junior categories


British teenager Lando Norris is to replace Stoffel Vandoorne at McLaren after the Belgian driver announced he is to leave at the end of the season.
Norris, 18, has been the team's reserve driver and took part in first practice sessions in Belgium and Italy in 2018.
He will partner Renault's Carlos Sainz, who will replace Vandoorne's retiring team-mate Fernando Alonso.
"This is a special moment, one I could only hope would become reality," said Norris.
"To be announced as a race driver for McLaren is a dream come true."
Norris is a title challenger in the Formula 2 feeder series this year, sitting second in the championship having won on his debut from pole position.
Since joining McLaren's Young Driver Programme in early 2017, Norris has conducted race simulation work for the team in addition to participating in testing.
"For the remainder of 2018, my focus remains firmly on the Formula 2 championship," he said.
"My objective is to win the title before joining McLaren full-time, which will be tough, but I will fight as hard as I can for the remaining four races.
"I'll also be working closely with McLaren at every opportunity to learn as much as possible from the drivers, engineers and mechanics to give myself the best preparation."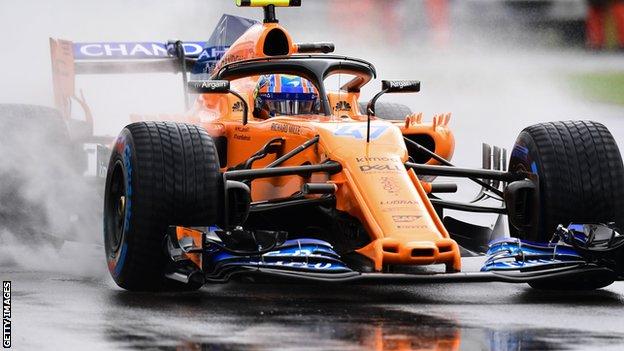 Lando Norris, pictured in first practice for the Italian Grand Prix on Friday, won the European Formula Three championship in 2017 and this year sits second in the Formula Two championship, the feeder series to F1
Vandoorne, 26, is 16th in the championship and has no points from his past 10 races. He finished 12th in Sunday's Italian Grand Prix.
"The past two seasons we didn't achieve the success we'd hoped, but I want to thank everyone for the opportunities they gave me," said Vandoorne.
"I intend to give it my all for the remaining seven races of this season, and will announce my plans for next season in due course."
McLaren team boss Zak Brown added: "It's clear we haven't provided Stoffel with the tools to show his true talent."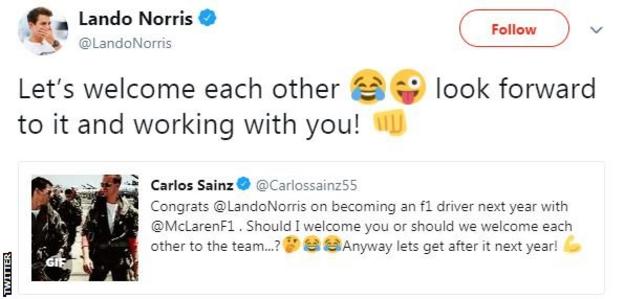 -- Courtesy of BBC Sport