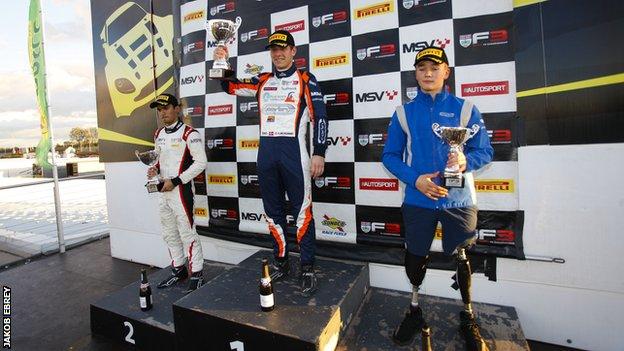 Billy Monger (right) claimed two pole positions at Donington Park
British double amputee Billy Monger finished third in the final race of the British Formula 3 Championship at Donington Park.
This weekend's event marked his first return to the Leicestershire track since the April 2017 accident that led to both his legs being amputated.
He started in pole position but Carlin team-mate Nicolai Kjaergaard won for his second victory of the weekend.
"It's great to be on the podium," Monger, 19, said.
"This weekend I've had nothing else on my mind aside from driving as fast as I can and I think I've proved that with two pole positions and the speed I have carried throughout testing and the weekend.
"Earlier in the season my mentality was slightly clouded as I had no idea what to aim for, so getting podiums was an amazing achievement."
On Saturday, Monger had claimed his maiden British F3 pole position before finishing fourth in race one, while he was 15th in Sunday's race two as Carlin's Sun Yue Yang won from pole.


Billy Monger: Happy to be back at Donington Park
-- Courtesy of BBC Sport