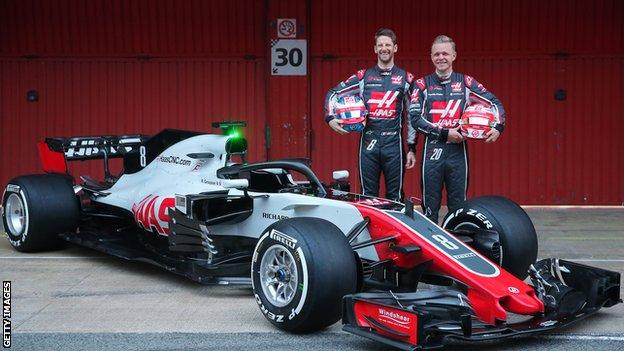 Romain Grosjean is 14th in the 2018 drivers' standings, with team-mate Kevin Magnussen in ninth


Romain Grosjean and Kevin Magnussen will remain the driver line-up for Haas for the 2019 Formula 1 season.
Frenchman Grosjean, 32, has been with the American outfit since its inception in 2016 while Denmark's Magnussen, 25, joined the following year.
Haas came eighth in the constructors' championship in 2016 and 2017, and are fifth in this year's standings.
"Retaining both drivers was a pretty easy decision," said team principal Guenther Steiner.
"From the very beginning, we needed experienced drivers to hasten the development of our car and our team, and we have two very good and experienced drivers in Romain Grosjean and Kevin Magnussen."
Grosjean is 14th in the drivers' standings but has amassed nine penalty points this year and was disqualified from the Italian Grand Prix earlier this month.
Team-mate Magnussen is ninth having accumulated 49 of Haas' 76 points, and Steiner is confident their 100-point target will soon be broken.
"Both drivers push each other to be better, and their collective feedback allows us to be better," he said.
"It's not a coincidence that in their second year as team-mates, Haas F1 Team is having its best year. By keeping Romain and Kevin together, we aim to do even better next year."
-- Courtesy of BBC Sport