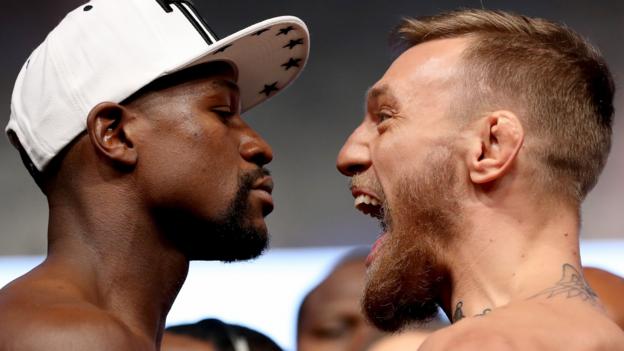 Conor McGregor claimed he has never seen Floyd Mayweather in worse physical shape as the pair exchanged words at a raucous weigh-in in Las Vegas.
McGregor weighed in at 153lbs for Saturday's 154lb fight, with Mayweather 149.5lbs, before a face-off that drew roars from the thousands in attendance.
McGregor screamed in the face of his rival and paraded around the stage as Mayweather cut a reserved figure.
"He looks blown out, full of water," said McGregor, 29.
"That's the worst shape I've ever seen him in. I am going to breeze through him, trust me."
Mayweather, who has come out of retirement for a 50th and final bout, said: "I know what it takes when it's a fight of this magnitude.
"Weight doesn't win fights, fighting wins fights. It won't go the distance, mark my words. This will be Conor McGregor's last fight also."
Some in Las Vegas thought McGregor's more conservative performance at Wednesday's final news conference intimated he might be coming to terms with the realities of making his boxing debut against one of the greatest fighters of his generation.
But playing to a crowd filled with Irish colours and songs, he revelled in his reception - and in the boos for Mayweather - beating his chest and screaming repeatedly.
"Look at me, I am in peak physical condition," he said, adding he would weigh close to 170lbs on fight night.
The build-up to the T-Mobile Arena bout has at times resembled a soap opera but finally, at around 04:00 BST on Sunday morning, they will at last fight.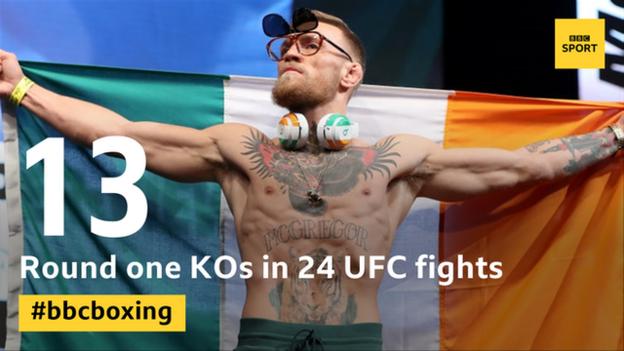 Record numbers?
Many from within boxing have rubbished the match, choosing to refer to it as an "event" rather than a fight. But the dissatisfaction of the boxing purist looks unlikely to affect the mass audience, with the bout being screened in more than 220 countries.
That global reach could see the record of 4.6 million pay-per-view buys - set when Mayweather beat Manny Pacquiao in 2015 - beaten.
Watching the fight costs a minimum of £20 in the UK but around £75 in the US. This, added to ticket sales, merchandise and sponsorship, makes for a healthy pot. Tickets are also on sale to watch in bars on the Las Vegas strip, while more than 400 cinemas across the US will broadcast the event.
It all means more than $600m (£466m) could be generated, with Pacquiao-Mayweather's reported haul of around $620m in sight. Mayweather is expected to make around $300m, McGregor $100m. Not bad for 36 minutes of work or less.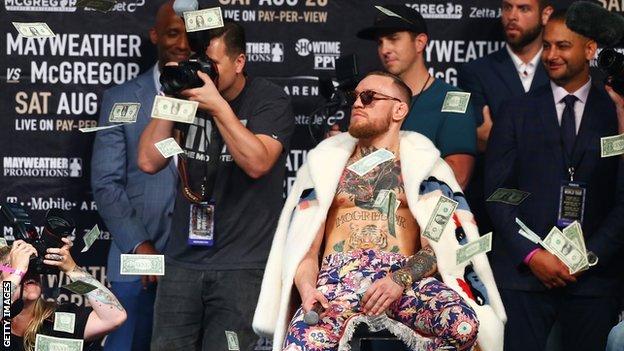 Revenue from Saturday's fight could break the record of $620m set by Mayweather's bout against Manny Pacquiao in 2015
-- Courtesy of BBC Sport