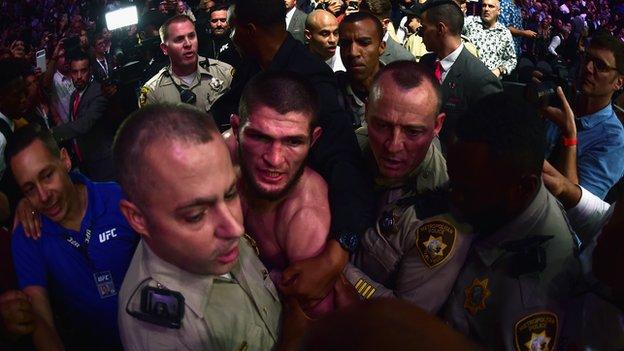 Khabib Nurmagomedov was escorted from the arena by police



Ugly scenes marred UFC 229 as lightweight champion Khabib Nurmagomedov began a brawl by the octagon after beating Conor McGregor.
Seconds after landing a fourth-round submission, the Russian vaulted the cage and headed towards Irishman McGregor's team, prompting a melee.
Meanwhile, McGregor was involved in a bust-up in the octagon with members of his opponent's team.
Three of Nurmagomedov's party were arrested but later released.
UFC president Dana White said McGregor had refused to press charges.
Earlier White could be heard telling the 30-year-old winner he could not receive his belt in the octagon as he feared it may incite trouble among those present at Las Vegas' T-Mobile Arena.
He later said the Nevada State Commission, which sanctioned the bout, has withheld Nurmagomedov's fight payment pending an investigation.
"I know if we put the belt on him [Nurmagomedov] in the octagon there'll be things thrown," said White. "I just said let's just try and get him out of here.
"Police officers were getting punched, security guys were getting punched. I actually think police and security did an incredible job. Khabib jumped over the cage like one of those Parkour guys. What are you expected to do? "
McGregor appeared stunned and was quickly escorted away by his team, while heavyweight and light-heavyweight champion Daniel Cormier entered the octagon to seemingly try to calm Nurmagomedov, who left the arena flanked by police.
What was billed as the biggest bout in UFC history, one set to break the organisation's pay-per-view record and where McGregor returned after a 693-day absence, will now prompt difficult questions for White and the company.
How the chaos unfolded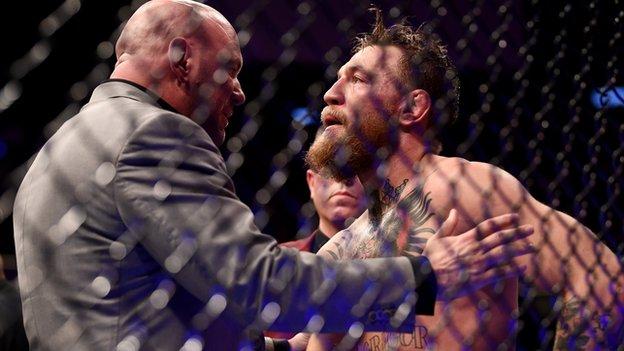 UFC president Dana White tried to speak to a stunned McGregor in the aftermath of the contest
Nurmagomedov largely dominated proceedings before administering a rear-naked choke, prompting McGregor to tap out with one minute and 57 seconds of round four remaining.
The champion instantly shouted at the beaten man and then pointed at McGregor's team before exiting the ring and attacking Dillon Danis, a fighter who trains with McGregor.
While the brawl took place, McGregor was involved in a bust-up in the octagon with one of Nurmagomedov's training partners.
Nurmagomedov left the arena with fans throwing objects towards him, while White said he felt "sick" over the scenes.
Nurmagomedov mars dominant display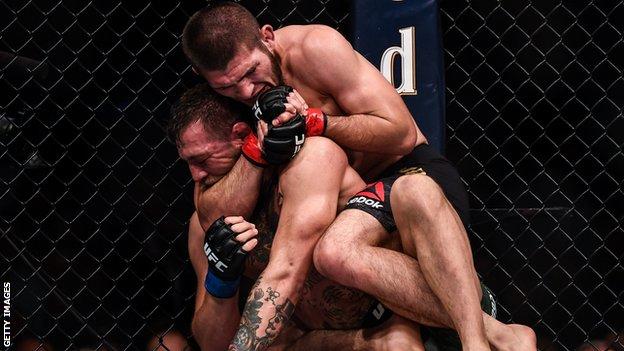 Nurmagomedov used his renowned wrestling skills to dominate McGregor on the floor and won the contest with a choke
The aftermath to the bout managed to overshadow one of the most acrimonious build-ups to a contest the UFC has seen.
In McGregor's two years out of the Octagon his one-fight £76m foray into boxing - a defeat to Floyd Mayweather - further built his profile.
Nurmagomedov - now unbeaten in 27 MMA bouts - added to his own reputation by landing the lightweight belt which once belonged to 'The Notorious'.
When McGregor attacked a bus carrying his rival and UFC staff - prompting a five-day community service charge - the flames were fanned further. Unsurprisingly, the pair refused to touch gloves seconds before the contest.
Actors including Mel Gibson and Matt Damon sat ringside, as did Northern Irish golfer Rory McIlroy and they saw Nurmagomedov - who began honing his renowned wrestling skills at the age of eight - take his rival down inside a minute.
McGregor - pinned to the cage - survived for four minutes and though his coach told him Nurmagomedov could not improve on his opening five-minute segment, the champion and heavy pre-fight favourite flew out in round two, landing a superb overhand right.
It staggered McGregor, who somehow withstood a ground and pound lasting close to two minutes to again make it to the end of the round.
McGregor had never stopped an opponent after the second round in his UFC career and as he struggled to gain any sort of foothold, it appeared a flash knockout would be his best hope.
He looked more threatening in the third and managed to repel takedown attempts but after again being pinned to the cage in the fourth, he eventually succumbed to a choke.
Nurmagomedov, the first Russian and Muslim to win a UFC title, had delivered a dominant display but his immediate actions changed the mood and narrative instantly.
-- Courtesy of BBC Sport