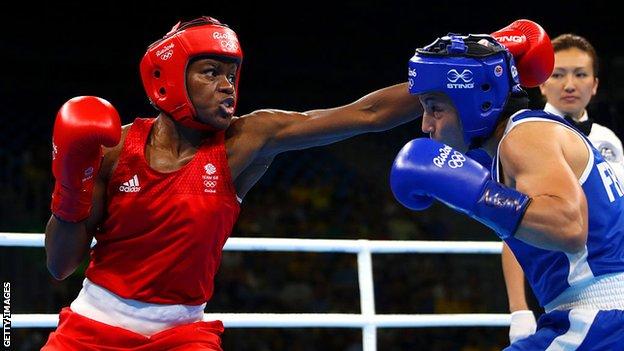 Britain's Nicola Adams won Olympic boxing gold in 2012 and 2016


Olympic chiefs have begun an investigation into the "governance, ethics and financial management" of the International Boxing Association (AIBA).
The International Olympic Committee (IOC) warned AIBA could lose its status as amateur boxing's governing body.
The IOC has also "frozen the planning" for boxing at the Tokyo 2020 Olympics.
But it says it will make "all efforts" to ensure boxing features at the Games "regardless of these measures".
One of the IOC's key concerns surrounds Gafur Rakhimov, who was elected as AIBA president this month.
The controversial Uzbek businessman is described by the US Treasury Department as a "key member and associate of a transnational organised criminal network".
The IOC says that creates uncertainty about his role.
Regarding the organisation's finances, auditors have told the IOC "uncertainty still persists about the ability to continue as a going concern".
The IOC has acknowledged progress by AIBA in improving refereeing standards and becoming fully compliant with the World Anti-Doping Agency.
Is boxing at Tokyo 2020 under threat?
The IOC says not, but it has:
Frozen the planning for the Olympic boxing tournament at Tokyo 2020, including official contact between AIBA and the Tokyo 2020 Organising Committee, ticket sales, approval and implementation of a qualification system, test event planning and finalisation of the competition schedule.
Prohibited the use by AIBA of the Olympic properties, including the Olympic rings and Tokyo 2020 logo for any communications/advertising and/or promotional materials.
Former world heavyweight champion Wladimir Klitschko has called for the World Boxing Association (WBA) to replace the AIBA as the federation responsible for organising the Olympic boxing event.
-- Courtesy of BBC Sport