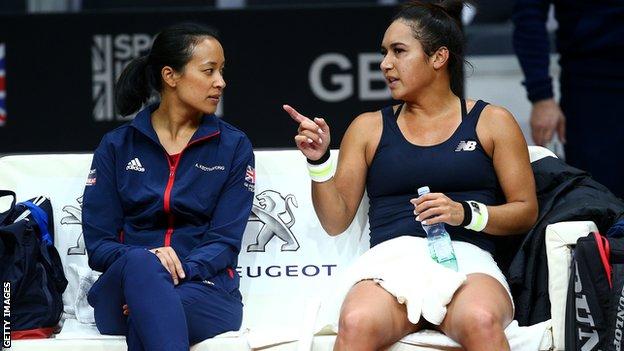 As well as the finals in Budapest, Great Britain's Fed Cup play-off tie with Mexico next month has also been postponed
The ATP and WTA Tours are on the verge of being shut down until May following pressure from players.
Assuming the decision is rubber-stamped, then no tennis will be played on either of the main tours before the Madrid Open, which is due to begin on 3 May.
This week's Indian Wells tournament was cancelled abruptly on Sunday, after one case of the virus was detected locally.
And the inaugural 12-team Fed Cup Finals were postponed on Wednesday.
The World Health Organization has now described the coronavirus outbreak as a pandemic for the first time.
The organisers of this month's Miami Open had said they were moving ahead "as scheduled," despite a state of emergency being declared in Broward County.
But following meetings of the ATP and WTA player councils in Indian Wells, it became clear that a significant number of professionals did not feel happy about playing on through the crisis.
The uncertainty also appears to have been a factor, with many players still in California and not sure whether to fly home.
The news that Juventus defender Daniele Rugani had tested positive for the virus has also brought the issue closer to home for some.
"This is low key a big deal," US player Nicole Gibbs posted on social media. "As soon as the athletes start contracting it, takes playing without fans out as a 'safe option'."
The ITF had already postponed April's Fed Cup Finals in Budapest in the light of Hungary's decision to limit indoor public gatherings to 100 people.
As well as the loss of Indian Wells and Miami, the start of the European clay-court season will be severely affected.
The ATP events in Monte Carlo and Barcelona, and the WTA tournaments in Charleston and Stuttgart, are among the tournaments that will be cancelled.
There will be huge consequences for some of the tournament owners, who may not be insured against such a scenario, as well as for local economies.
A loss of earnings will also be a major worry for lower-ranked players, not to mention the travelling band of coaches and support staff, and the freelance hospitality, security and media community.
-- Courtesy of BBC Sport